OUR VISION
IM K–12 Math is a problem-based core curriculum built on the principle that all students are capable learners of grade-level mathematics. Students learn math by doing math. They are encouraged to use their current understanding of math, their lived experiences, and the world around them as resources for problem solving. By starting with what students already know, teachers invite all students to contribute to mathematical learning, centering student thinking, and being responsive as students develop conceptual understanding.
OUR STORY
Founded in 2011 at the University of Arizona, Illustrative Mathematics is guided and inspired by educators who work in spirited teams to do extraordinary things. 
The result is a comprehensive suite of math curricula and professional learning offerings designed to encourage engaging and affirming math instruction and support the development of positive mathematical identities.
Use curriculum fully aligned to college – and career-ready standards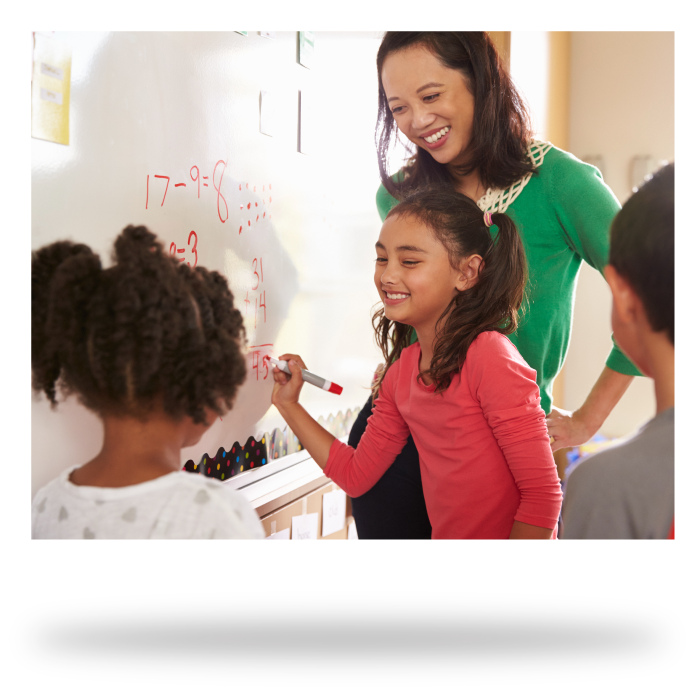 OUR FOUNDERS
Together, founders Bill McCallum and Kristin Umland have spent over 20 years dedicating their lives to helping teachers, educators, mathematicians, and policymakers show fidelity to both mathematical coherence and student learning. Their vision of helping people solve problems through mathematics began as a project at the University of Arizona. That vision realized is now Illustrative Mathematics–a leading non-profit organization in the mathematics education space with a complete, coherent, standards-aligned K–12 curriculum. IM K-12 Math™ is fully aligned to the focus, rigor, and coherence of the standards, and has been given the stamp of approval by EdReports, earning perfect scores in the areas of Focus & Coherence and Rigor & Mathematical Practices.
Ready to get started with IM K–12 Math

™

?
Get free access to certified materials
OUR BUSINESS MODEL
IM K–12 Math is an open educational resource (OER), which means it's free and available for anyone to use under a Creative Commons (CC BY) license. To get access to curricular materials that are always up-to-date, high-quality, and aligned to IM's vision, visit our IM Certified® Partners. IM Certified curricular materials are accessible for free in a downloadable format, or pay a fee for printed materials and access to digital platforms.
IM Certified® Professional Learning is a highly recommended support for teachers and leaders to successfully implement IM K–12 Math. Teachers learn how to make the shift to a problem-based instructional model, integrating equitable and responsive teaching practices that center student thinking. Leaders gain access to tools and resources that support planning, observations, and feedback. 
Make your classroom an IM classroom
THE IM CLASSROOM
The IM Classroom consists of teachers and students using IM K–12 Math™ distributed by one of our trusted IM Certified Partners (Kendall Hunt, Imagine Learning, and McGraw Hill). IM Classroom teachers practice IM's problem-based instructional model with integrity, and believe that all of their students are capable of learning grade-level mathematics. School and district leaders of the IM Classroom proactively support curriculum implementation, and teachers participate in IM Certified Professional Learning. Choose a partner and get started.

Family-owned and operated, we at Kendall Hunt have a 75-year tradition of providing innovative curricula to meet the specific needs of students and teachers. Illustrative Mathematics is the latest addition to our lineup of hands-on science, mathematics, gifted and virtual reality curricula for grades PreK-12. We provide the only free, digital middle school and high school mathematics curriculum for students in grades 6-12, along with high-quality printed resources to ensure you and your students are making the most of your Illustrative Mathematics problem-based curriculum.

Imagine Learning (formerly LearnZillion) IM K–12 Math, certified by Illustrative Mathematics, offers a blended digital and print instructional experience that leverages the power of high-quality curricula. The comprehensive solution empowers teachers with lesson cards and teaching notes, digital interactives and assessments, and embedded differentiation. The program engages students through instructional routines, math discourse, and digital tools that promote thinking and reasoning. 
At McGraw Hill, learning science guides everything we do, fueling our mission to help students and teachers succeed. Our new partnership with Illustrative Mathematics is part of that mission, allowing us to deliver their problem-based core curriculum on our Open Learning Platform with print resources to fully support your implementation.
CHOOSE AN IM CERTIFIED PARTNER
Fill out this form, and an IM Certified Partner will contact you to discuss your options for accessing IM K–12 Math.
IM K–5 math curriculum is needed right now because there is not a program that currently aligns to the math standards and practices while looking at coherence across the grade levels like IM is planning. In addition, they are using high leverage research based math teaching practices, including professional learning for teachers, reflection questions for teachers and coaches, and number routines that build upon each other through the K–5 progression. They are intentional about the visual models they are using at each grade level to help build a deep understanding of the math concepts.
— Georgina R., Bristol, CT